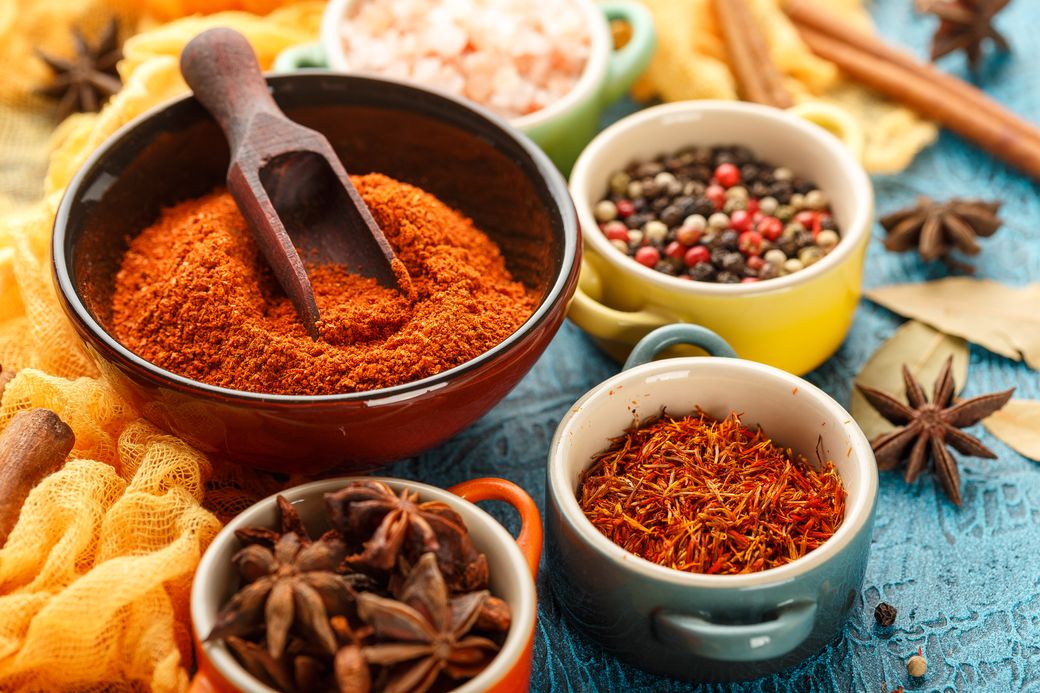 Here's Everything There Is to Know about Indian Condiments
When you are overwhelmed at an Indian restaurant by dozens of stainless steel bowls full of different-coloured sauces, it can be tough to figure out what is based on looks alone. Even if you didn't grow up with a fridge overflowing with chutney bottles, it could be tricky to distinguish between the yellow achar and the red kachumber.
To help steer you through the slices of cucumber and stacks of mason jars containing fiery-orange goos and dense, dark mint chutney, here is a brief guide to the basic types of Indian sauces.
Condiment #1: Achaar
Achaar is a type of pickle; instead of a vinegar/salt/sugar brine, it is mixed with oil and spices. Mustard oil is the most common. Homemade achaar is usually made at the start of summer and then left in the sun for a few days or months to pickle.
A good pickle blend makes it possible to eat dal (lentil stews) and sabzi (sautéed vegetables) spicier while adding a salty, funky, slightly acidic profile.
The three kinds of achaar include:
Aam (mango) ka achaar

, which comes from unripe green mangoes, creates a massively satisfying sour flavour.

Nimbu (lemon) ka achaar

,

Indian food's answer to the sweet-and-sour sauce, so it's tough not to enjoy. Usually paired with any rice dish, nimbu ka achaar has lots of sugar tempered by items like chillies, ginger, and mustard seed.

Pachranga achaar

is made by one of India's most famous manufacturers of achaar. The name means "five colours" and refers to the company's signature blend of mangoes, lotus root, turnip, carrot, red chiles, cumin, and ginger. This results in a pickling blend with a four-dimensional flavour profile — spicy, sweet, tangy, and earthy — which you can get at South Asian grocery stores (and requested by name at many Indian restaurants).
Condiment #2: Chutney
Similar to how Sriracha, pesto, or melted cheese can give just a bit of flavour, chutneys are typically used in Indian food to spice up dishes with fruits, vegetables and herbs of different types.
These spices possess a wide range of flavours:
Gole (coconut)

chutney is slightly bitter.

Hari (green) chutney

is grainy and spicy.

Imli (tamarind) chutne

y is tangy, sweet, and smooth to the palate.

Timater (tomato)

chutney is mild and chunky.
Condiment #3: Kachumber
Kachumber is a minced salad meant to cool down the meal, like a raita, and add texture and acidity to a dish. Some variations include cucumbers, tomatoes, onions, lime, and cilantro. Another variation contains radishes. This is not kachumber; it is just a vinegar-based blend of raw vegetables.
Condiment #4: Raita
Some, if not many, Indian foods make your tongue burn and your forehead sweaty. To balance out all the spicy dishes, you can go for one of the yogurt-based raitas, typically made to cool your mouth. This dish comes in many varieties, but like chutney, you can pair any raita with any dish.
Aloo (potato) ka raita

is chunkier due to its root crop origins and can be eaten either by itself or with other spreads.

Boondi raita

is made from tiny chickpea flower balls, giving it a smooth, boba-like texture and mild spice taste.

Kheera (cucumber) raita

is very plain and mild, perfect for those with a low spice tolerance.

Palak (spinach) raita

combines fried seeds of cumin and mustard with asafetida, which results in a strong flavour.
Order Authentic Indian Food in Aldergrove Now
So even if you're not storing chutneys in a separate refrigerator, you, too, can conquer the great big world of Indian condiments, or — at the very least — know your achaars from your kachumbers with this helpful article.
Or you can learn all about it first-hand by ordering authentic Indian food in Aldergrove from Veerji! We've gained over ten years' worth of experience in the food and restaurant industry and — in that time — understood how to run a successful restaurant business in BC. Explore our menu and locations so that we can serve you!