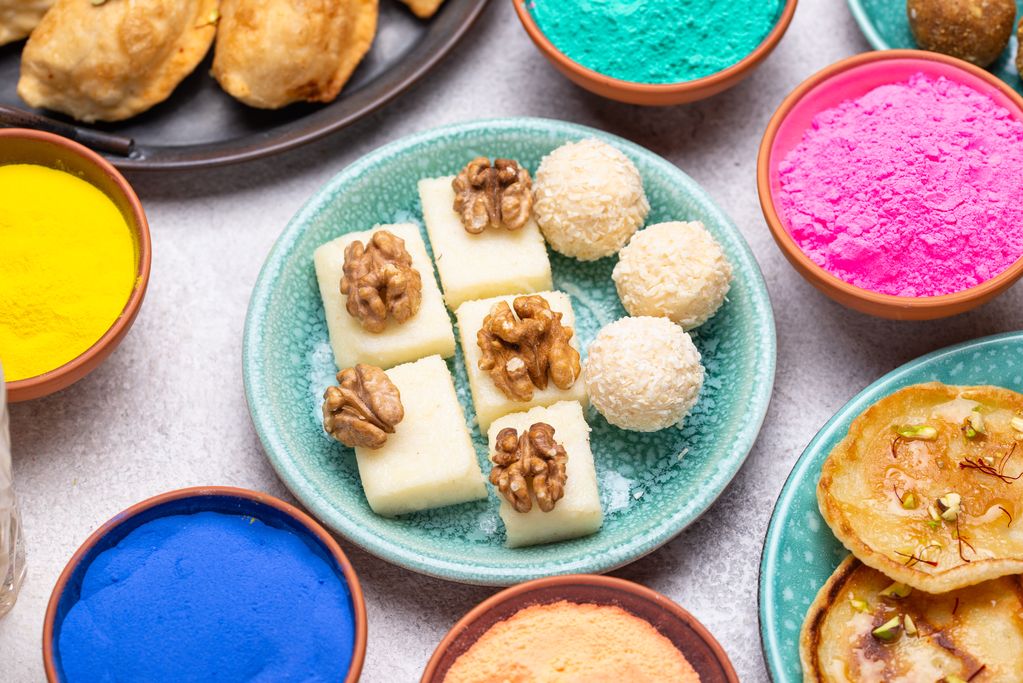 6 Delectable Indian Desserts to Add Sweetness to Your Meal
For the longest time, Indian desserts were judged to be indiscreetly sweet, but it was from the lack of knowledge of the art of making sweets. And now, well, it's a whole different ball game.
When it comes to desserts, we don't compromise. And not just any Indian desserts! We're talking about healthy, authentic, and 100 per cent homemade recipes, which is exactly what you'll find below.
1) Rasgulla: White Syrupy Dumplings
Rasgulla, which means 'small balls of delight' in Bengali, is one of the most popular desserts in India. It's a dumpling made from ball-shaped pieces of Rabri and is filled with sugary syrup. Part of the reason it is so popular is that it is so easy to make, and the other is that it tastes outrageously good.
Some Bangladeshi food historians believe that Nabin Chandra Das brought the dessert to Kolkata after creating it in Bangladesh.
2) Kaju Barfi: Cashew Fudge
Kaju Barfi, also known as cashew fudge, is a sweet dessert made using cashew nuts, with layers of cashew nut and sugar. Although it is mostly made at home, one of the best places to try it is at a roadside dhaba, which is the Indian equivalent of truck stops.
It goes great with a warm cup of tea, and the best part is that it's very easy to make and is perfect for novice cooks.
3) Aam Papad: Mango Crisp Cake
Aam Papad, or mango crisp cake, is usually made with flattened rice flakes, jaggery, and grated mango. It's then topped with a generous amount of coconut shavings and condensed milk.
It is said to be the perfect antidote for a hot summer afternoon in India. The secret to its popularity is its sweetness. So much so that you can find quite a few different versions of it.
4) Kulfi: Indian Ice Cream
Kulfi, which means 'sweet' in Urdu, is a dense, traditional Indian ice cream made from cream, milk, and nuts. The traditional version of this dessert is made using condensed milk and cardamom, which gives it a deliciously different flavour from the western ice creams.
It's most commonly sold in Kolkata's street-food stalls, where it's served in a cone made of paper and plastic. It's also a popular dessert during Ramadan.
5) Mishti Doi: Sweet Yogurt
Mishti Doi is a sweet, creamy yogurt made from reduced yogurt, sugar, and clarified butter (ghee). It is most commonly served as a dessert in western India. It can be served by itself, or it can be added to various dishes such as biscuits, pakora, and the most popular dal-mishti-doi combo.
It is quite popular in India and especially in the states of West Bengal, Assam, and Tripura, where milk is cooked with sugar to make it sweet.
6) Besan Laddu: Roasted Gram Flour Ball
Besan Laddu is a sweet made from roasted gram flour and sugar. For this treat, you basically take roasted gram flour, mix in sugar and flour and form a round, ball-like shape. It is usually eaten during festivals, weddings, and as a sweet treat.
It is traditionally an Oriya dessert, but it's also very popular in other regions of India like Maharashtra, Uttar Pradesh, and Tamil Nadu.
Conclusion
When you're talking about Indian desserts, you have a choice between sweet, syrupy desserts and lighter, condensed desserts. These are some of the top Indian desserts that are worth trying should you ever find yourself in India or visiting an Indian restaurant abroad.
If you want to experience the sweet taste of India, visit one of the best Punjabi restaurants in Surrey. Veerji is home to the most delectable Indian delicacies and desserts that taste authentic. Visit our stores or get in touch with us today.